Chad Waite
Chad Waite
Managing Director, OVP
Sector Expertise: Digital Biology, Network Security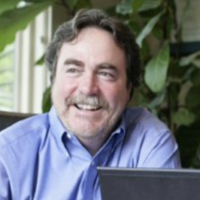 With 28 years of experience investing across sectors as diverse as IT, clean tech, and digital biology, OVP has raised seven funds, with $750M currently under management. The firm has invested in over 130 companies, with 53 exits, including 23 IPOs. Notable successes include WatchGuard, Seattle Genetics, and Rosetta Inpharmatics.
Chad Waite's investments include 4thPass, Accelerator, Adapx, Airgo Networks, Boston Beer, Cardima, CellPro, Complete Genomics, Corixa, Filenet, GenoLogics, Limerick BioPharma, Loudeye Technologies, NanoString, Napera Networks, ProTools, Quantum Medical, Raytel Medical, Returns Online, Rosetta Inpharmatics, SafeHarbor, Saros, Seattle Genetics, SignalSoft, Syntellect, Vantos, Verdezyne, Verity, and WatchGuard. He currently serves on the Board of Directors of Accelerator, Adapx, Complete Genomics, GenoLogics, Limerick BioPharma, NanoString and Verdezyne, and is a Board Observer to Talyst.
Prior to joining OVP in 1987, Chad was a General Partner at Hambrecht & Quist Venture Partners where he focused on investments in IT and life sciences. Prior to H&Q, he was in marketing and sales management at Cobe Laboratories, Inc. in its cardiovascular medical products division.
Chad is a board member of the Washington Technology Alliance, a member of the Oregon Health Sciences University (OHSU) BSIF Advisory Board and a member of the University of Washington's Technology Transfer Advisory Board.